In 2002 new parents of twins, Clive and Clare Pearson made a decision that would change their lives forever.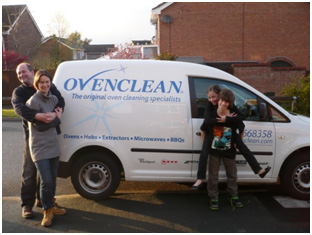 Clare's high powered job in publishing involved a long commute every day into London and Clive's work in sales often took him away from home at evenings and weekends. Having the children made them realise it was time to re-evaluate their priorities so they could be around to play an active part in their lives. 
After hearing about Ovenclean from a friend, they attended an open day and soon realised that owning an Ovenclean franchise was the perfect way to balance the demands of having a young family whilst maintaining their high earnings. Clare could work from home, handling bookings and paperwork, whilst Clive would be out cleaning ovens and building the business.
Now ten years on and with the twins preparing to go to secondary school in September, the Pearson's are still enjoying the flexibility that being self-employed offers. "Having the business has meant we have been able to balance our careers with the demands of having a growing family," Clare said. "I have been able to be at home with the children during the day, fitting my work around dentist appointments, school plays, assemblies and the school run. We are able to rearrange the diaries around the holidays so I am able to have a few days off with the children. This has meant that we've been able to see them grow up, in a way that would not have been possible if we had stayed in the corporate world."
Although the recession has been tough for many businesses, Clare explains that being part of the Ovenclean franchise has also offered a good level of security in uncertain times. "The core customer base we have built up over the years has kept our business going strong. Many of our friends in corporate jobs have either been made redundant or live with the threat of redundancy over their heads - we just don't have that concern. We had a very good 2011 and 2012 is looking encouraging too."
Over the years the couple have grown their business substantially. With a database of several thousand customers, they currently operate three vehicles over adjacent territories and have taken on two employees to keep up with demand. Longer term plans for the couple include adding a fourth vehicle to their already thriving business, but for now the couple are just enjoying being able to concentrate on family life: 
"Our personal happiness was at the top of the agenda when we made the decision to invest in the franchise, and it has delivered everything we'd hoped," Clare concludes. "As a working family, being with Ovenclean has offered us maximum flexibility. We have built a successful, rewarding business with more security and much less stress than we would have done if we had remained employees in our respective sectors."
When asked if Clare had any advice for anyone considering investing in an Ovenclean franchise, she replied: "Just do it! Having your own business offers you the flexibility to fit your career around your lifestyle.  The key to success is being prepared to work hard at the beginning to build strong relationships with your customers, as it is their loyalty that will keep you going through the years. It's hard work, but you definitely get back what you put in."                      
Ovenclean is the longest established and most successful domestic oven cleaning franchise in the UK, providing specialist oven cleaning services to a large, virtually untapped marketplace. Franchisees operate from professionally liveried vans and benefit from low overheads and high flexibility. The powerful yet eco-friendly Ovenclean system, exclusive to franchisees, cleans ovens and hobs, Agas, ranges and barbecues, restoring them to pristine condition within a matter of a few hours. The proven business model is easy to learn, simple to manage and delivers a high earning, flexible lifestyle.