When 26 year old Robbie Freeman spotted the Ovenclean franchise, it appealed to him instantly. Easy to learn and straightforward to manage, he felt it provided the perfect business opportunity for someone practical and hard-working like himself. "It was affordable and looked like great value" he says, "I liked the fact that the work was 'hands-on' and I could see that there would be high demand for a professional oven cleaning service."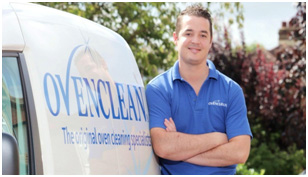 Robbie launched his own Ovenclean franchise fifteen months ago, after completing his training, including a course at the company's dedicated Training Centre at Head Office and two weeks 'in the field' working alongside an established franchisee. "The launch went really well and really got the name out there," he confirms. "In addition to the bookings I took during my training, the phone continued to ring during the next couple of weeks and I found myself with a fully booked diary from the word go!"
Ovenclean is one of the UK's original oven cleaning specialists with a large network of established franchisees, who operate from fully equipped vehicles. They use a powerful, yet 100% caustic-free, eco-friendly system to restore ovens, hobs and barbecues to pristine 'as new' condition within a matter of hours.
"Customers are truly amazed by the results I can achieve," Robbie says. "There's a real 'wow' factor – that's why people invariably re-book on the spot and become regular, repeat order customers. It's hugely satisfying and means you take great pride in what you do!"
He adds that although he is only just into his second year, his Ovenclean franchise has certainly lived up to expectations. He's making more money than he did in his previous career and feels that the opportunity is there to expand his operation into a multi-unit management franchise further down the line.
 "In due course, I can see myself growing the business, but at the moment, I'm simply enjoying working for myself," Robbie concludes. "The flexibility and independence is great, and although it's hard work – that's fine too. In fact, that's part of what I like about it - I'm happy to get stuck in and to reap the rewards accordingly!"